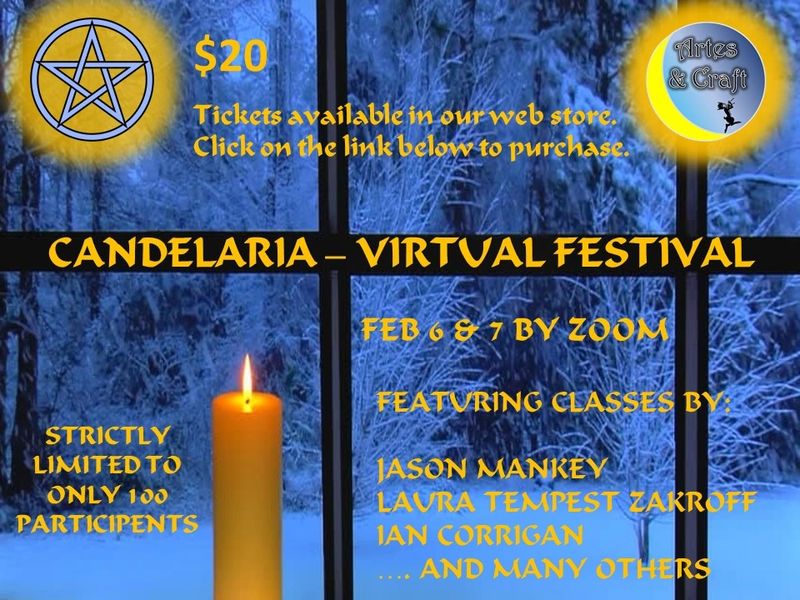 Click here to purchase…. https://artesandcraft.com/products/candelaria-event
Artes and Craft presents: Candelaria: A Virtual Mini-Festival Celebrating the Returning of the Light to a Dark Winter World.
JASON MANKEY, LAURA TEMPEST ZAKROFF and IAN CORRIGAN are headliners!
Dates: Saturday, Feb. 6 and Sunday Feb. 7, 2021.
Workshops will be held via Zoom.
Fee: $20 – of Which 50% goes to the charity "Pagans In Need", the rest supports the presenters.
Maximum Attendance Limited to only 100 people.
Workshops include:
Jason Mankey: A sneak peek at Jason's soon to be released book, "The Horned God of the Witches"
Ian Corrigan: At Brigid's Flame – an Irish Goddess in Modern Paganism – Workshop and Invocation to Brigid
Laura Tempest Zakroff: Dancing with the Divine – Hands-on embodied movement workshop
Paul Barbary: Blacksmithing demo and discussion
Frank Suarez-Roman: Santa Muerte Lecture and Tenebrae Ritual
Pat Camarena Rose Barbary: Growing up Pagan in Boston during the heydays of the 1980s wicca movement
Shana Cramer- Pittman: Candle Magic
Performances by Douglas the Bard and Ragnar Blóðbarðr
YOU MUST PURCHASE A TICKET TO ATTEND!!!! Use the link above. You will receive a link to the ZOOM meeting and instructions.