Pagan Supplies and Witchcraft Tools Online. Award Winning Hand Forged and Crafted Ritual Tools.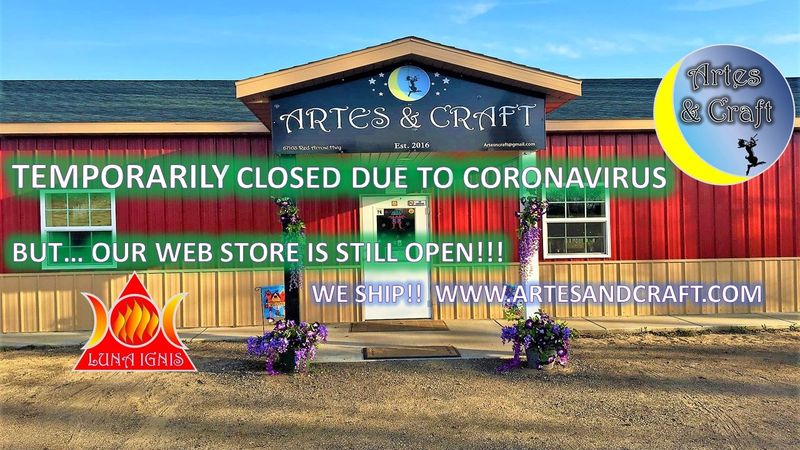 As of March 16 it has become clear to us that the best way to keep our customers, as well as our services providers, such as tarot readers, and ritualists and ourselves healthy and safe during this pandemic is to physically close our bricks and mortar store in Hartford to the public temporarily. OUR WEB STORE WILL STILL BE OPEN AND OPERATIONAL!!! We have always billed ourselves as a destination, the biggest and best in Michigan and probably the Mid-West. You, our customers, drive to Artes and Craft from Wisconsin, Illinois, Kentucky, Ohio, Indiana, from all over Michigan and even Missouri. It is with this thought in mind that no matter how much cleaning and disinfecting we do, anyone walking through our doors, is more at risk from a variety of potentially infected locations. Starting today, our physical store will be closed to the public.
WE ENCOURAGE ALL CUSTOMERS TO ORDER FROM OUR ON LINE STORE!! We will be making major announcements this Friday about how we will be reducing or eliminating shipping charges, and offering discount/coupon codes for our regulars and facebook followers. Until Friday our winter sale is still in effect. WE WILL KEEP SHIPPING AS LONG AS THE USPS IS WORKING!
But, Pat, Paul and Ashley will continue to work! We will fulfill your web orders. We will continue to replace inventory as needed. More and more of our products will be added to the web store including some vendor products. We will continue to talk to our customers over the phone and via our FB page and messages. We will conduct some online rituals and classes. Pat will continue to work with you on spell kits or advice. Paul will craft like crazy. And when we reopen our doors, the store will be clean and reorganized! In the next few days we will be making more announcements that we think you will like. So keep watching this page as we start to roll out our plans. And above all, stay safe. We look forward to seeing your faces again as soon as we feel it is in all our best interests.  We love you all. Thank you for your patronage from the bottom of our hearts. Please consider ordering from us on line to keep us afloat during this difficult time!
We will also open by appointment, or if you have driven a long distance, and we are in the store working on our web business, then we will let you in to browse.
Paul, Pat and Ashley