Pagan Supplies and Witchcraft Tools Online. Award Winning Hand Forged and Crafted Ritual Tools.
INTERIOR PICS OF THE STORE!
Hand Forged Athames by Luna Ignis.... Also decorative swords and blades by Grimm Witchcraft.. Hand thrown incense burners! Art by Shauna Knight!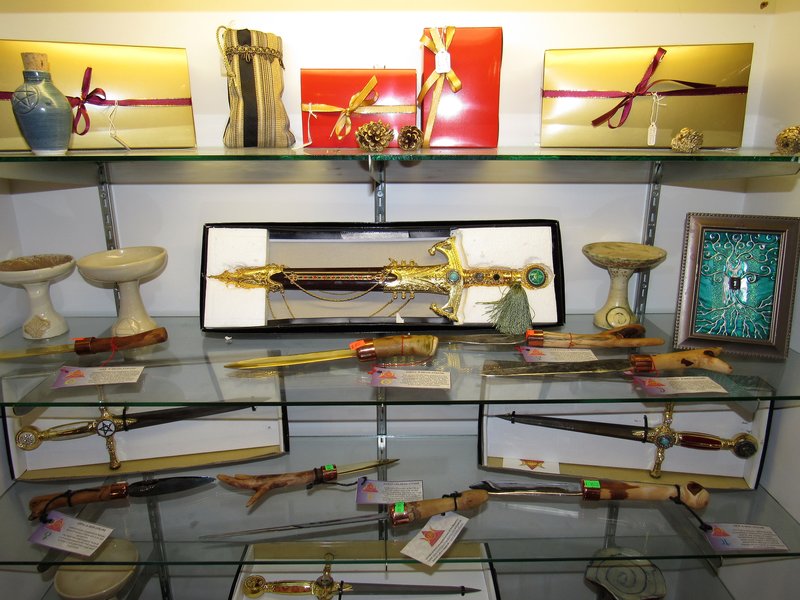 INCENSE!! Fine Luna Ignis magickal blends, plus some of the best stick and cone you will find anywhere - including Auroshika resin on stick and Balaji!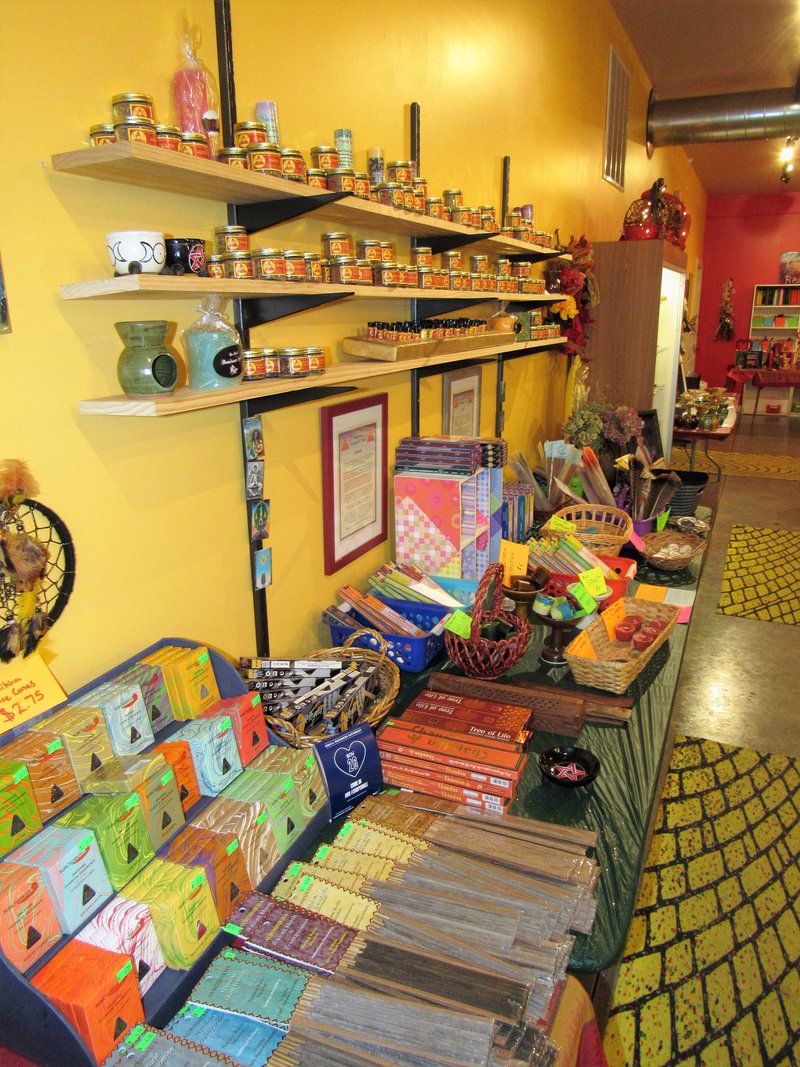 Looking across the store... Twisted Willow is one of our wonderful vendors! Hand made 100% natural aromatherapy soaps, roll-ons, deodorants and lotions!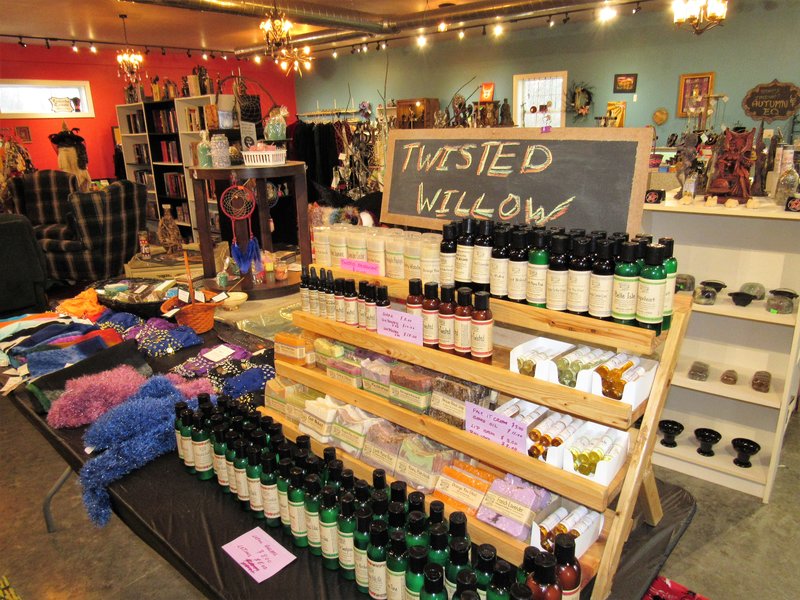 Spheres, crystal candle holders, Hand tumbled stones plus hand made, hand carved wooden Journals and Books Of Shadows.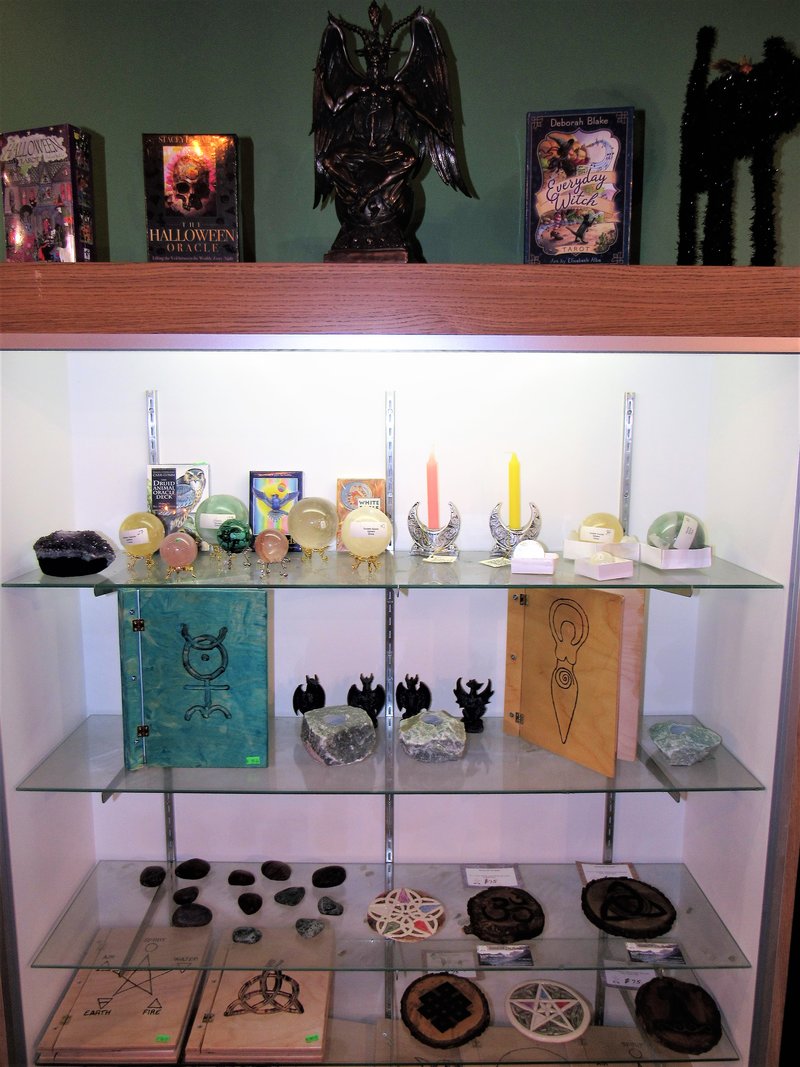 We are Tarot specialists... We have 50+ decks and 30 or more box sets in the store and are adding all the time. We have a huge selection of Runes too - many of which are hand made in either crystals or carved into Michigan White Oak.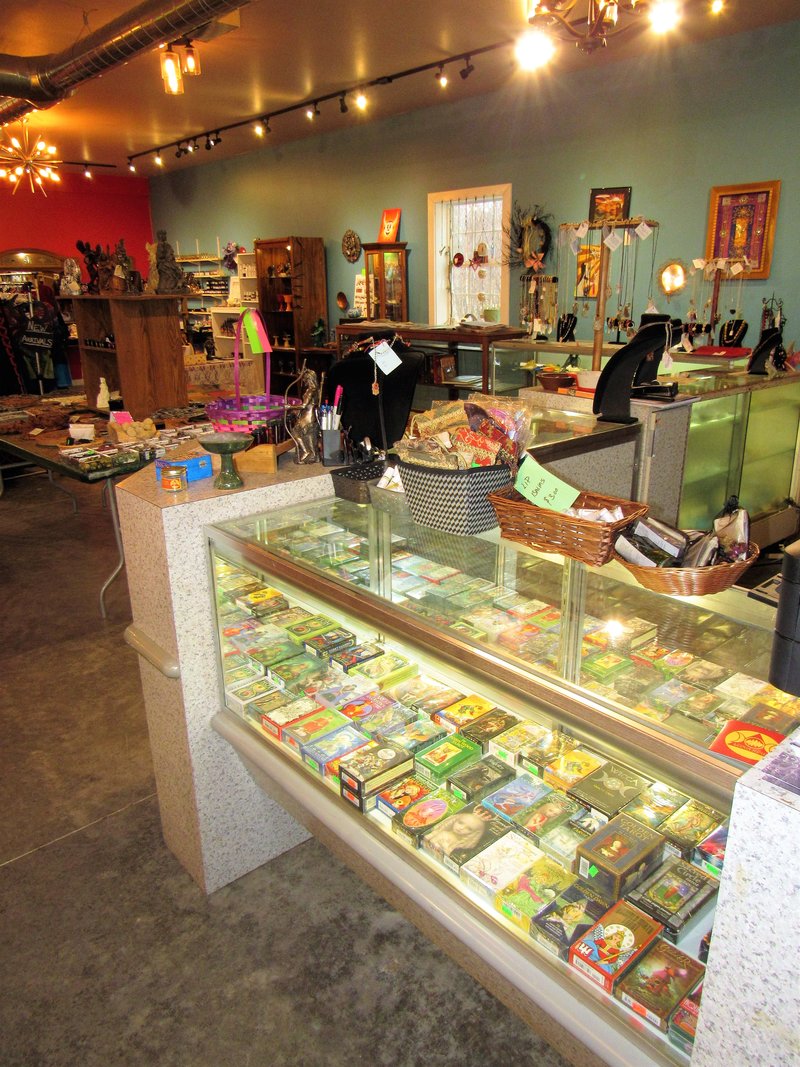 CRYSTALS!! Large selection of tumbled gems, also crystal points, and rough stone. Also we carry a huge selection of Greek, Roman, Egyptian, Norse, Celtic and Yoruban gods and goddess statues by famous pagan artists such as Maxine Miller, Paul Borda (Dryad Designs), Derek Frost and more.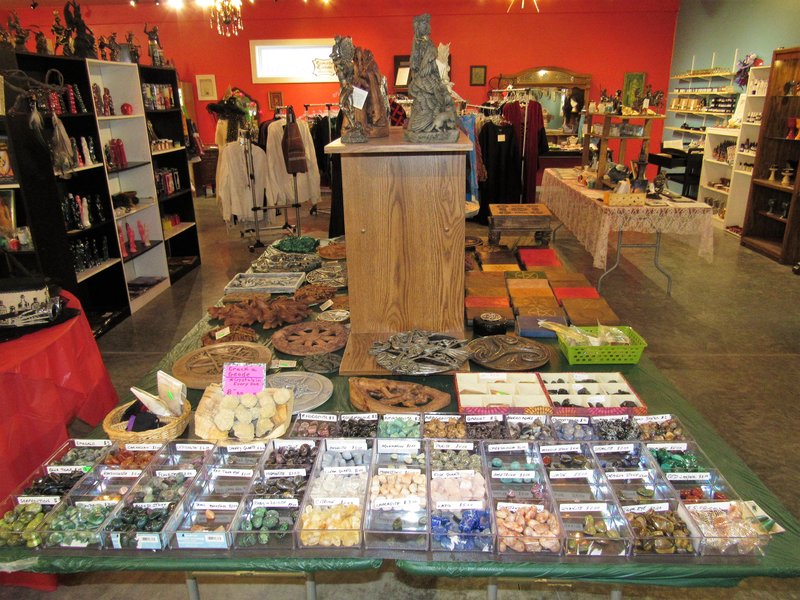 Our reading nook! We are expanding our book selection all the time... We concentrate on books on Witchcraft, High Magick, Shamanism, etc. We delight in carrying publishers most New Age stores have never heard of... Avalonia, Capal-Bann, Three Hands Press, Troy Publishing, Dark Moon and more... We also carry rare books and limited numbered editions also from Xoanon, Scarlet Imprint, IXAAXAR, Three Hands Press, Fulgur, Troy Publishing and others.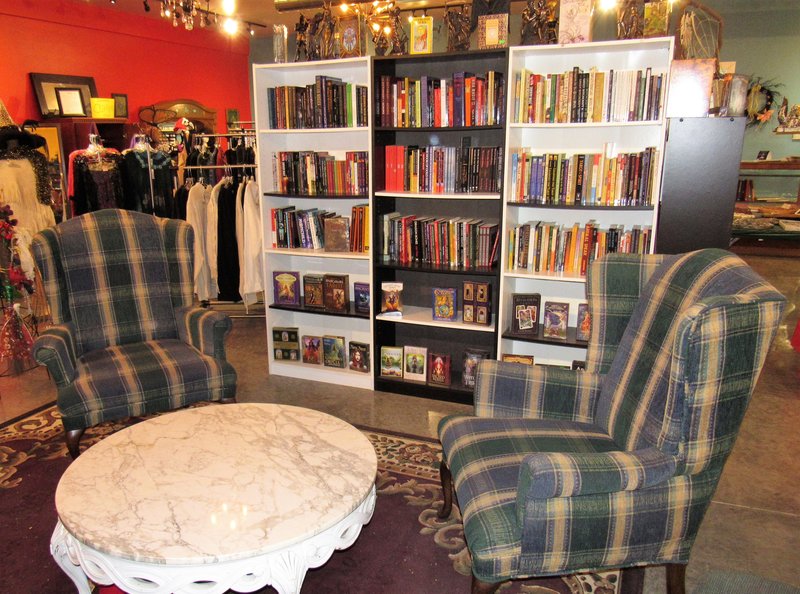 The store is also educational - we have numerous frames explaining the use of traditional witchcraft tools. This is our display of hand crafted wands, keppens and witch hooks. All are handcrafted, carved and sanded to a furniture quality finish, then oiled and consecrated. We gather our own wood from south west Michigan, we also frequently travel to England and have hard to find old world woods such as Rowan, Blackthorn, Gorse, Whitethorn... We also have from Michigan - Mulberry, Holly, Oak, Maple, Hazel, Beech, Willow, Silver Birch, Apple, Pine, Cedar, Hawthorn and Ash.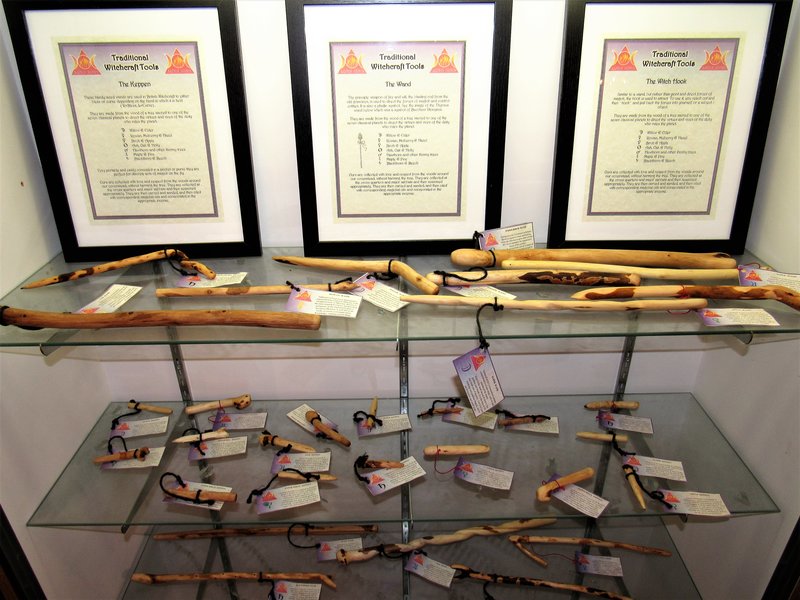 We have clothes and adornments... We have Ren Faire and Medieval wear from the amazing Leonardo Carbone of Germany (we are pretty sure we are their only US importer!), also very reasonably priced pagan wear from India Boutique, also hand made denim skirts and T shirts with pagan designs... Plus cloaks for all sizes and pockets! We also carry Steampunk hats, jewelry and more and will continue to build our selection.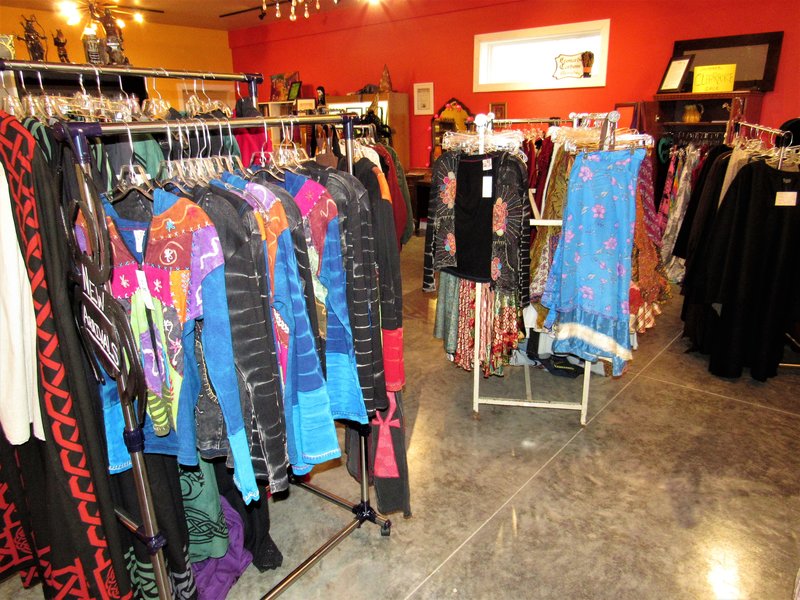 We carry a large selection of specialty candles. We carry all the usual spell/chime candles... plus a good selection of colored Tea Lights, also ritual candles... We also have molded specialist candles (poppets, fetishes, and more). Lots of Jar candles for the Orishas, Santa Muerte and others... We also carry Talisman Lights Candles of Salem MA, Coventry Creations spell candles, Crystal Journey Spell/Reiki candles..... ALSO the awesome hand made and hand poured Reiki and Spell candles by RE-WRYD (hand made by the awesome Shana of Elkhart). Also a large selection of oils, both voodoo and traditional witchcraft for anointing.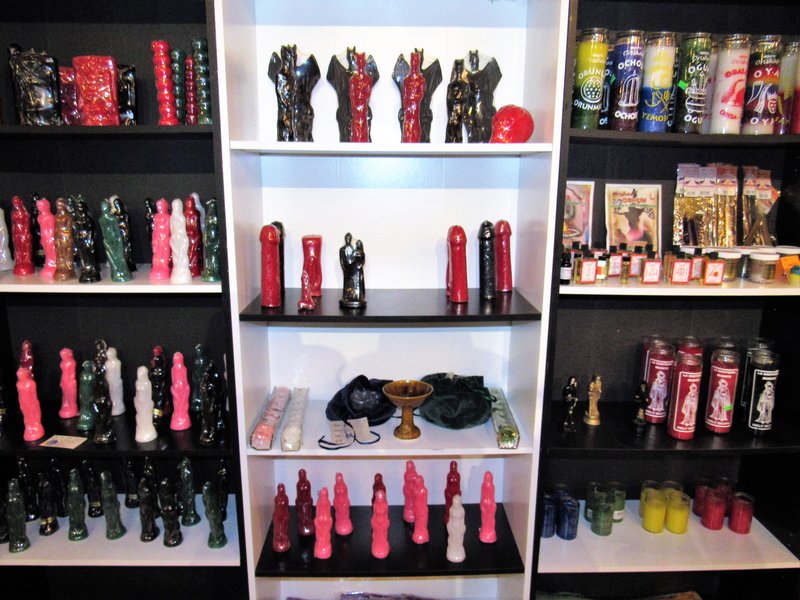 We have a huge array of handcraft Jewelry... Including the amazing Eupterra Aromatherapy Pendants... Also hand crafted altar cloths by the Amazing Wendy Wilson. Unique art by pagan artist, author and ritualist Shauna Aura Knight, crystal Jewelry by Two Bird Two and One Mann's Hands (both amazing ladies are local to SW Michigan). Also hand crafted rune sets.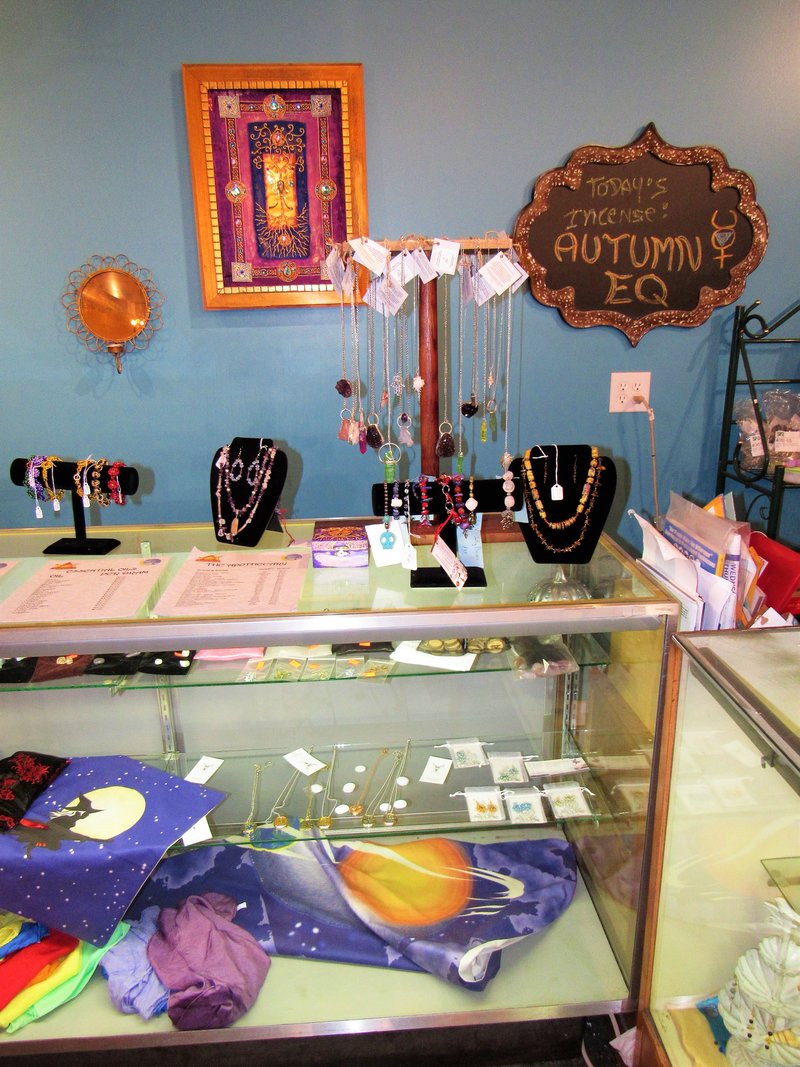 We carry amazing hand made curatives, tinctures, sprays, lotions - all made by experts in herbalism and aromatherapy. We carry products by the amazing Charissa's Cauldron, Sage's Aromatherapy, Twisted Willow, Morgana and Black Wolf Beadworks.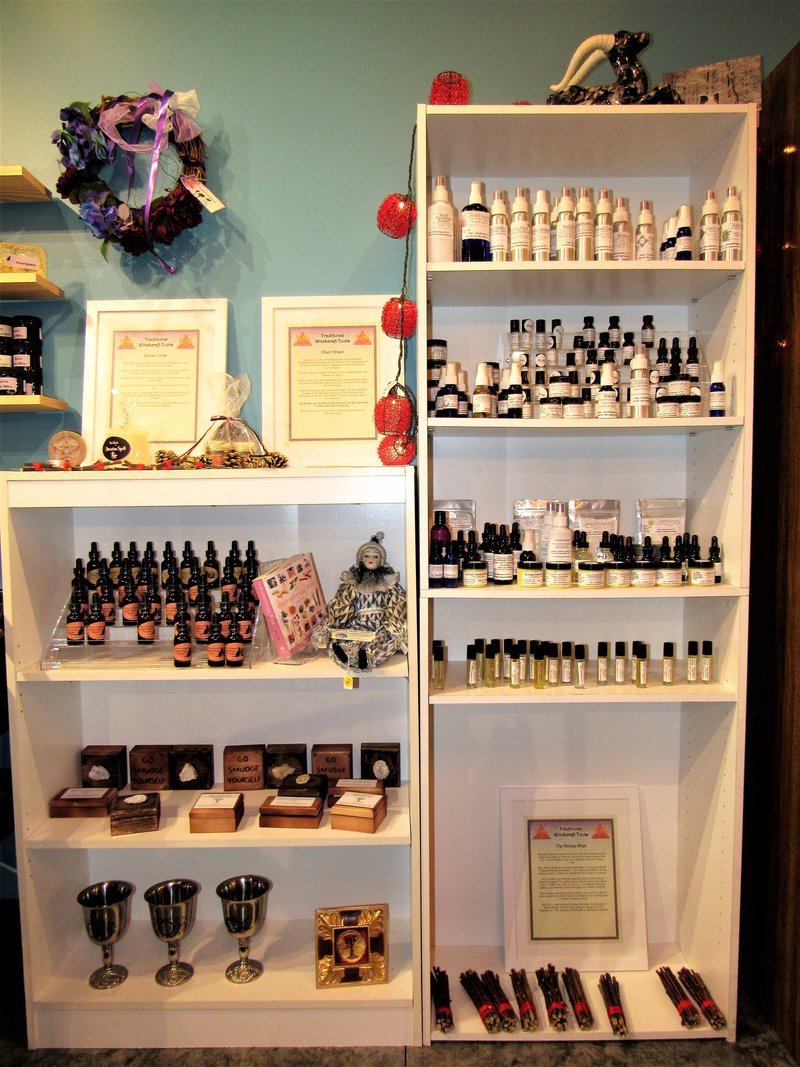 As well as our excellent selection of paperbacks..... We also carry rare and hard to find collectors books, many of which are limited runs with each book being hand numbered and signed... These are both beautiful examples of the book binders art and are highly collectible as an investment - these titles will greatly increase in worth once sold out. We have hardcovers by Troy Books, XOANON, Three Hands, Anathama, Fulgur, Scarlet Imprint, IXAAXAR.....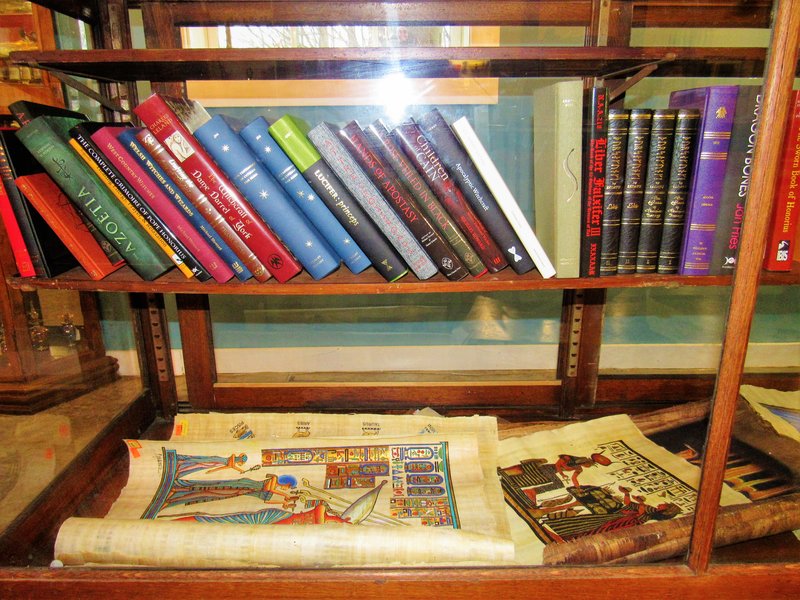 As well as our selection of tumbled crystals... We also have a large selection of fine pendulums in many types of crystal - most with jeweled chains and decals and some with special chambers for herbs, oils etc. We also have quartz, Fluorite, Labradorite points and others. Also a very large selection of amazing Jewelry by Paul Borda (Dryad Designs), Maxine Miller and the amazing artist Autumn Moon!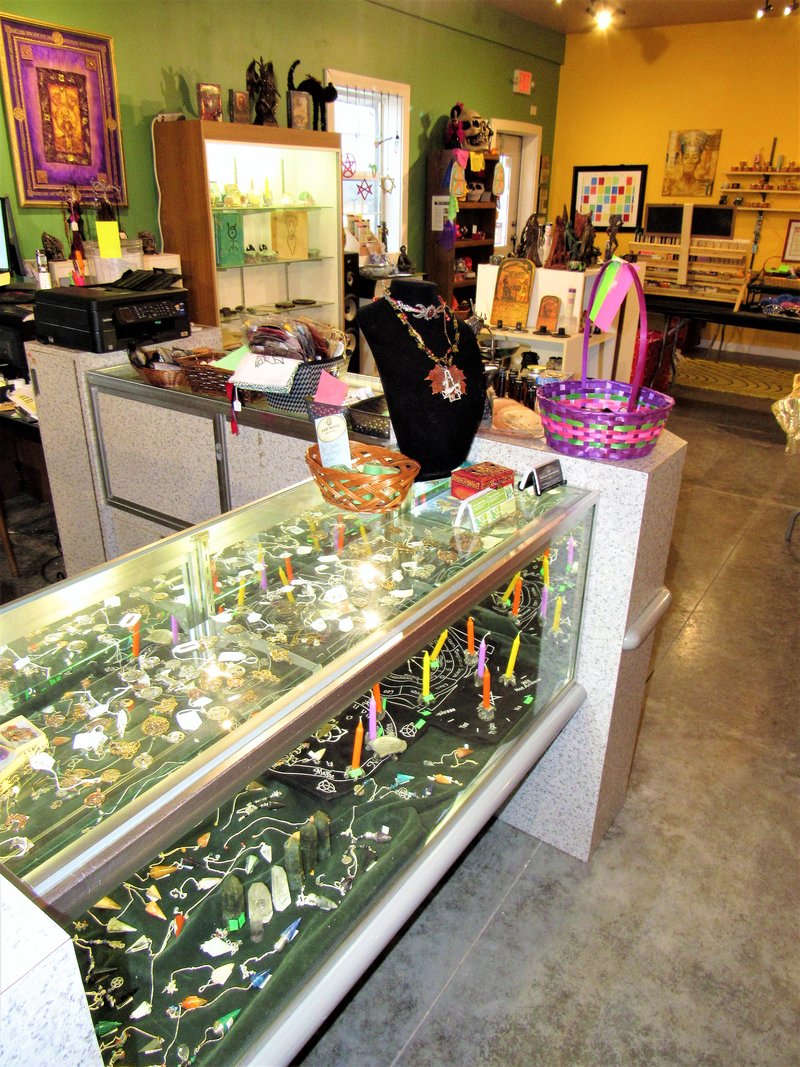 We also have handmade journals and BOS by Winged Lithium and Roy's Creations... Each one is unique... We also have a very large selection of wall plaques, altar shrines, altar boxes and altar adornments by Paul Borda (Dryad Designs), Maxine Miller, New Aeon of Salem.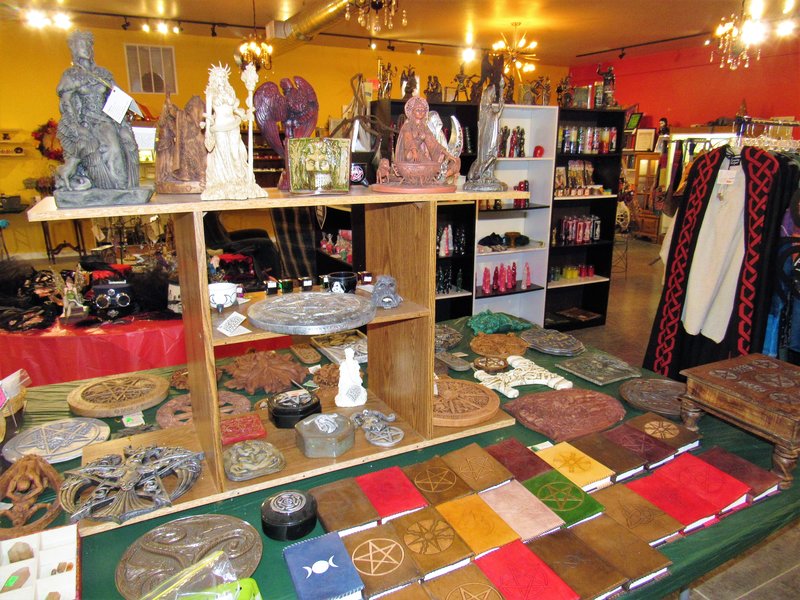 We are especially proud of our Apothecary. We have well over 100 fine herbs, resins and aromatic woods... And are expanding all the time. Some new age shops sell "frankincnese" or "copal"... Well we sell 7 varieties of Frankincense, 5 varieties of Copal, over 5 types of sandalwood - including some rare... We have hard to find herbs such as Belladonna and many others. We also have essential oils for sale by the dram - over 75 are available and we are adding more every month. We blend fine incense for Luna Ignis... and are experts... So are happy to answer questions on correct correspondences, magickal or medical uses, usage/preparation and more.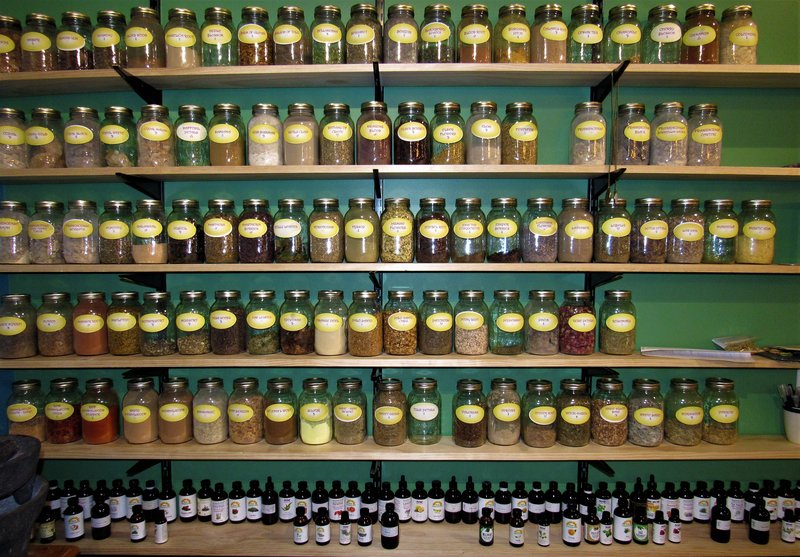 Artes and Craft is HUGE!! Our building is 3400 sqr feet - as such we are the largest of our kind in Michigan and probably the Midwest. Below is our huge 700 sqr foot ritual and workshop room - which we know is the largest of its kind in Michigan. We have held rituals with over 45 people sitting around the edge of this room - and could probably comfortably seat 70 or more. We have rituals, workshops, lectures, craft lessons and more every single week - most are free! Check the calendar tab on this website or our Facebook page for events!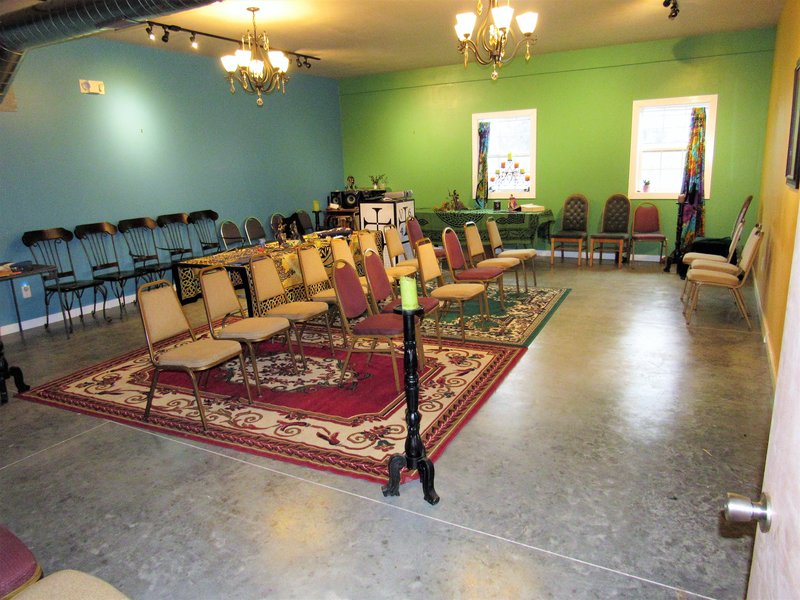 ARTES AND CRAFT CONSTRUCTION - FEB THROUGH JUNE 2016
Pictures as of April 6th! - The exterior is finished.... Interior walls and utilities are going in!
Pictures of the store as of March 15..... Exterior Construction is nearly complete!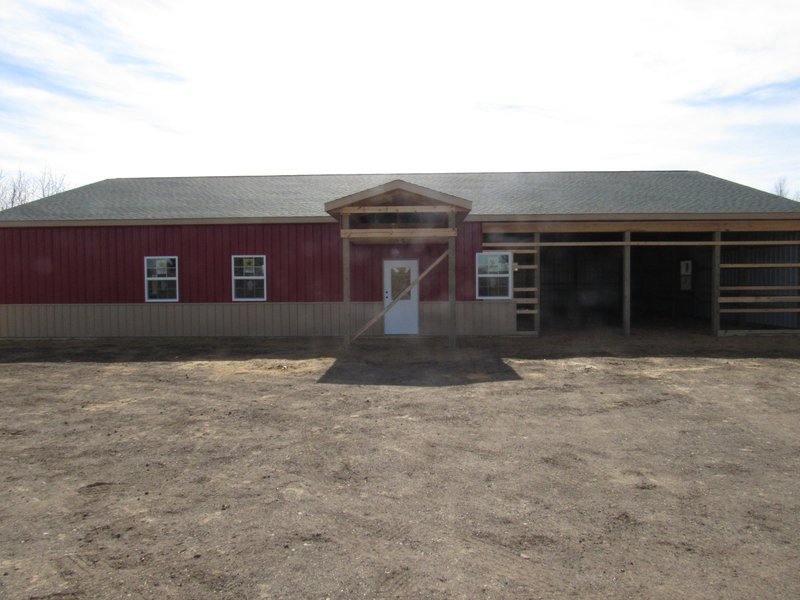 Store owner, proprietor and High Priestess of MoonFire.... Pat Camarena Rose... Admiring our new store...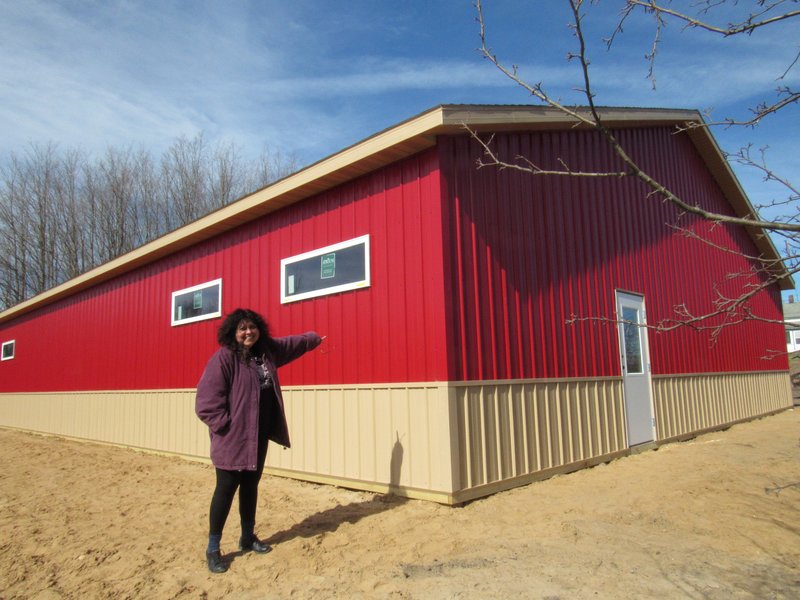 The store is built on 6+ acres of land... It used to be a Tree Farm - where a landscaper grew trees for planting in peoples gardens. We have row after row after row of oaks, maples, hawthorn, birch and more. We will be adding Hazel, Rowan, Elderberry and more also.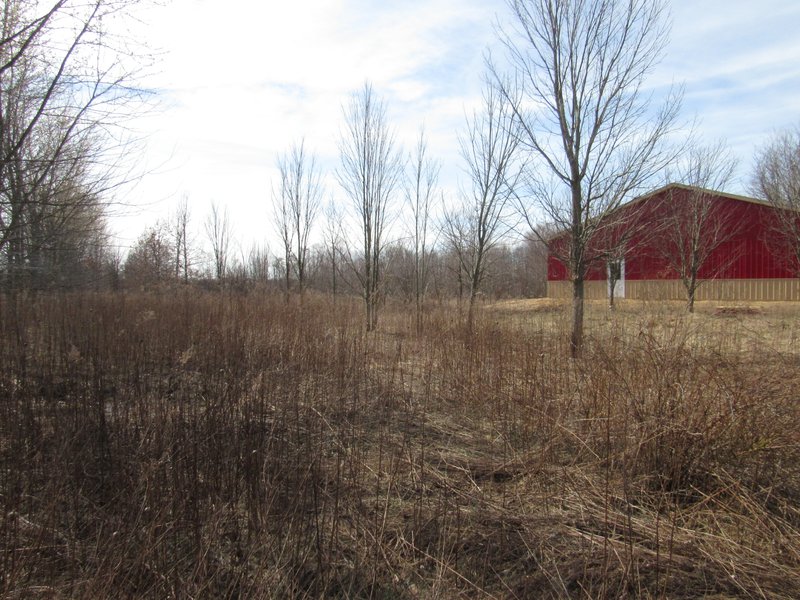 We have many silver and paper birches, our pond is a little flooded right now due to the melting snow - but it will recede soon.... We will harvest some wood (will the appropriate blessings) to carve into hand made products... We have a full woodwork shop including a lathe and carving equipment and a forge for iron working... We will have hand made ritual athames, blades, bolines, stangs, wands, offering bowls, chalices, besoms, staffs, witch hooks, runes, keppens, wind roarers, torcs and much much more... All made by actual witches following traditional correspondences and observing planetary timings.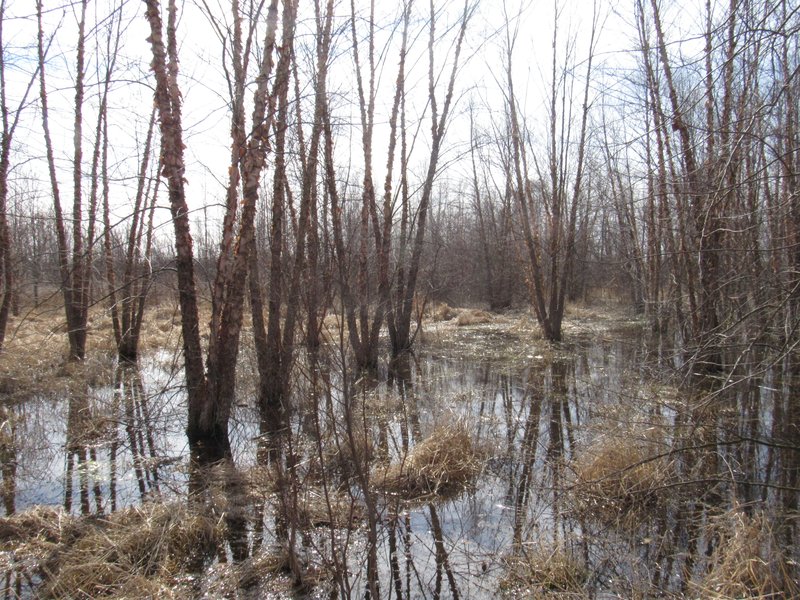 In our Maple grove are a couple of deer statues that have been on the land for decades... In fact they are a local landmark. We will dress them up for each season. The grove is also home to 1000s of daffodils and will be an amazing display by the spring equinox.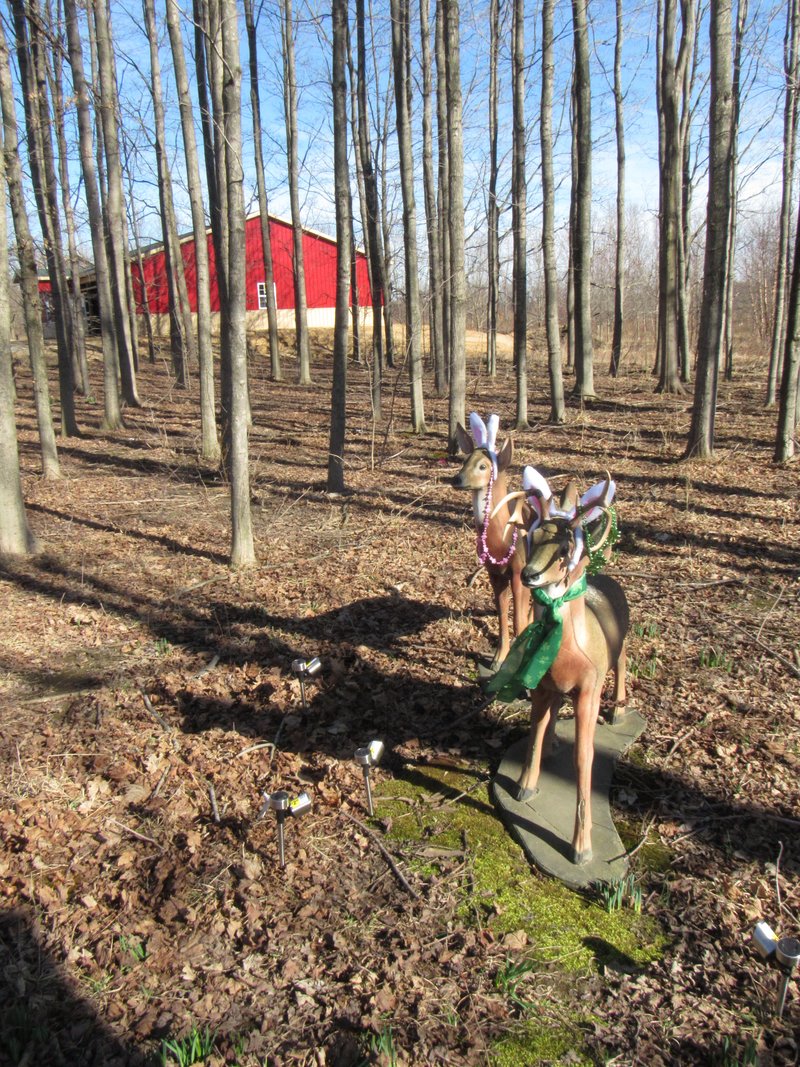 Finaly.... The shop will be huge inside... 3400 square feet of store front and ritual rooms... The pic below was taken just before the siding went up and gives an idea of the scale of this beast.....